Local historian Ruth Ketteringham, continues to share her passion for history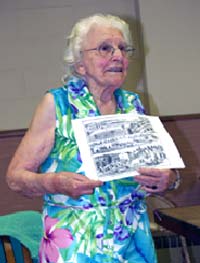 Ruth Ketteringham, presenting to the Historical Society of Old Brooklyn at their first meeting of the season in September, 2003.
Anyone who knows anything about Cleveland history will tell you Ruth Ketteringham is a gem of a lady. From the Western Reserve Historical Society to the County Archives she's viewed as one of Cleveland's best known and well respected local historians. She can make history shine bright; illuminating your perspective of the complex, yet simplistic world we live in today. Now some gems such as diamonds are the hardest substance known to humankind. Well Ms. Ketteringham can be pretty tough too, especially when it comes to getting her - no, make that our history right.
Ruth recently gave one of her many informative presentations of local history at this season's first meeting of the Old Brooklyn Historical Society. Her presentation covered the history of the areas of Pearl and Scranton Roads. She is renowned for her knowledge of Brooklyn Centre, from the days of the ice age, Indian trails, settlement of the Western Reserve, first stagecoach, through the redevelopment activities of the 1970's and today
For more than 30 years Ruth has been hunting information, starting down path after path, that many times leads her to yet more questions than answers. She's known for her critical attention to pinpointing, as best as one can, a definitive accounting of our history. She credits this curiosity and vigilance to her late Father, inventor, George Ketteringham. Her Father served for thirty years as the Clerk for the Archwood Congregational Church (now known as the Archwood U.C.C.), the oldest Congregational Church in Cleveland. While there her Father, up to his death, conducted extensive research of the church and the churches of Cleveland in general.
"I was blessed with a Father...with such a strong sense of curiosity and awareness of the significant developments of the day [concerning arts, cultural and social issues and opportunities]". She continues "Mother was also very involved and interested in neighborhood issues and activities...and was part of the initial PTA movement".
Ruth recalls her graduation from Denison Elementary School in February 1921. When her Father died, the school's history was the first topic in Brooklyn Centre she took on relative to historical research and documentation. She graduated from West Commerce School in February1925 and went on to work in the administrative and secretarial field for almost 50 years.
Ruth worked for the Visiting Nurses Association for 26 years, but only as recently as the 1970's did she begin to dedicate herself so thoroughly to Cleveland History. She served as the Historian of the Early Settlers Association for the thirty-year period from 1973 to 2003.
"People thought that I knew a lot and asked me a lot of questions" she states, and continues, " but that is what actually propelled me to research even more thoroughly and gain the knowledge and understanding I have".
Ruth is reverent about the history that she indulges in and shares with so many, commenting, "these varied interests and curiosities make life very much richer…richer than playing bingo for example".
In May of this year, the History Department of the Cleveland Public Library took in a donation from her extensive collection of 371 books and over 400 pieces of materials such as post cards, charts etc. Most of the materials were distributed for use by the History Department with some being distributed to the Fine Arts and Sociology Departments. In truth, we could write many years worth of articles on the research that Ruth has conducted and amassed since she began in the 1970's. But, the most delightful way to experience her passion is to watch and listen to her glow over the gems of life she has discovered of our past. Our community is very fortunate to have such a proponent of local history that has worked for so many years and has taught and inspired so many.
Hopefully by November we can report on a project that may bring some of Ruth's and her colleagues historical knowledge to more and more people. A project to publish transcriptions of presentations given by her and others is underway and will result in the publishing of more than 30 oral histories. Until then, be sure to catch the next presentation that Ruth makes. We'll be sure to inform our readers of the opportunity when it presents itself.
More Information:
Death Notice
Plain Dealer
July 29, 2006
"Ruth Ketteringham, preserved, promoted history of Cleveland"
Alana Baranick, Reporter
Plain Dealer, Monday, July 31, 2006, p. B-5
"Ruth Ketteringham dies at age 99"
Bill Barrow, Special Collections Librarian
Cleveland State University Library
Cleveland History Blog, 7/31/06
http://clevhist.blogspot.com
"Ruth E. Ketteringham, local historian, passes on"
Lynette Filips
Old Brooklyn News, 28:7 September, 2006, p. 1-2.
Related References:
"Local historian Ruth Ketteringham, continues to share her passion for history"
By Brian J. Cummins
Old Brooklyn News, October 2003
Tremont Oral History Project
Interview with Ruth Ketteringham (Angelo Tinsley, 1 April 2003) [pdf]
"Euclid Beach Documents at CPL"
Speaking Volumes Fall 2004
Cleveland Public Library
Denison Cemetery (Grand Army Cemetery or Brooklyn Centre Burial Grounds)
RootsWeb.com
The Encyclopedia of Cleveland History: Cleveland Hall of Fame
(...originally conceived by Ruth Ketteringham)
The Encyclopedia of Cleveland History: George H. Ketteringham
Ohio Cemetery Preservation Society
"Brooklyn Union Burying Ground"
By Lynette Filips
Ohio Cemetery Preservation Society Report